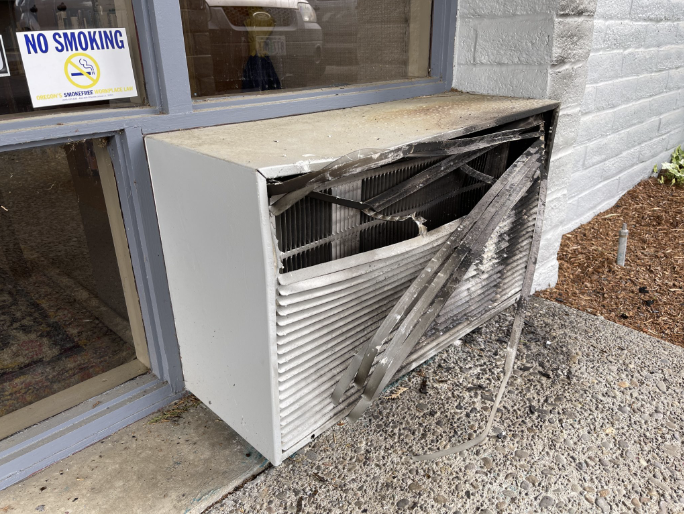 Oregon Right to Life's (ORTL) office in Keizer withstood a criminal attack on Sunday, May 8. Current evidence implies an individual attempted to break in and use Molotov cocktails to start fire to the building. Fortunately, no illegal entry was successful, limiting any significant damage.
Given the late hour, no one was present in the building. Though there was a small fire, harming a heating unit and some shrubs, damage was fairly minimal thanks to quick action from Keizer police and fire departments. Detectives released a photo of a white sedan leaving the area but have not identified any suspects.
The crime remains an active investigation. To report a tip, please message Keizer Police Department at tips@keizer.org or call 503-856-3529.
"Understandably, our team is shaken up by this attack," wrote ORTL executive director Lois Anderson in a press release. "We are committed to taking proper precautions to protect the safety of our staff as we move forward."
Such a move is necessary in response to the violence seen from pro-choice Americans following the leak of a draft opinion in Dobbs v. Jackson Women's Health Organization. That draft indicated the Court may return abortion regulation back to individual states. Just four days before criminals damaged ORTL's office, vandals broke multiple windows and graffitied a hateful message at First Image, a pregnancy resource center in southeast Portland.
"For a day or two, our [Portland location] will be closed, but we are working as quickly as possible to put things back the way they were," wrote Luke Cirillo, First Image CEO. "We don't want to miss a single hour to demonstrate compassionate care to every person [who] comes through our door."
ORTL received hundreds of supportive messages, phone calls, well wishes and financial support from advocates across the country. Former Oregon senator Denyc Boles and her family wrote, "You are all so appreciated! Thank you for loving babies and their mamas. Please be encouraged that there are so many of us who support you." Pro-lifers also offered to help ORTL recover in areas ranging from prayer to pressure washing.
Anderson says the violence directed their way is disheartening but unsurprising. And it certainly will not halt or modify ORTL's mission: protecting unborn boys and girls while offering tangible assistance and education to their parents.
"Oregon Right to Life will stay the course," she says. "Thousands of lives depend on it."