Every two years, the same lie that the abortion industry is uninterested in schools and school board elections rears its ugly head.  Just this week, the executive director of the Oregon School Boards Association, who is currently serving on the Salem-Keizer School Board, denied that there is an attempt to push a pro-abortion agenda on any school boards.
The Salem-Keizer School District is the second largest in the state and makes for a good example of the trends that are happening on a statewide level.  If you look at this district you'll see just how hard the abortion industry is working to be involved in local schools.  Here are the facts:
1. Planned Parenthood performs abortions in Salem a few blocks away from McKay High School.  Under Oregon law, a minor can get an abortion at any stage of pregnancy, and they can do it on their parents' insurance plan for free without notifying their parents. There is no law preventing a Planned Parenthood employee from encouraging a minor to get an abortion, or even from driving the minor to an abortion clinic.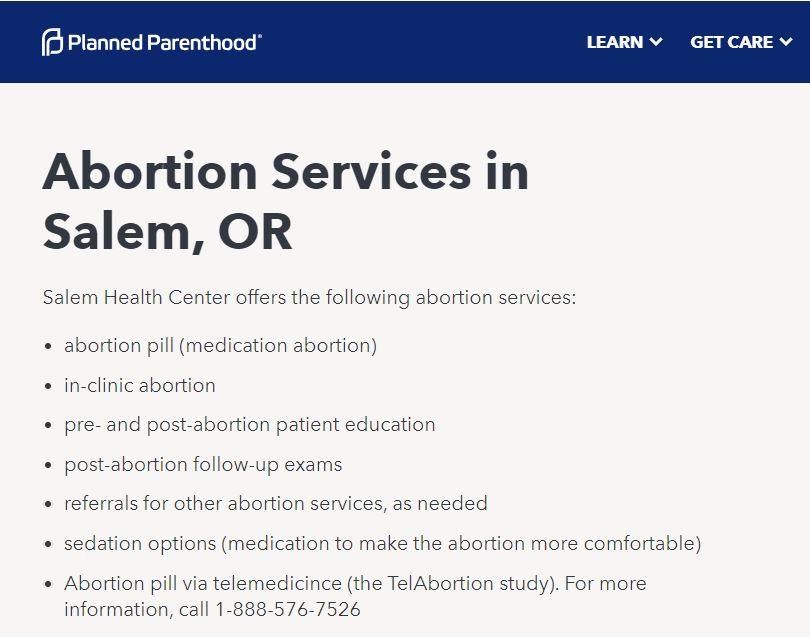 2. Until 2015, Planned Parenthood enjoyed a contract with the school district to teach students at North and McKay high schools. When this inappropriate relationship between abortion providers and students became known, current school board member Chuck Lee was asked to take action to stop this. He refused. Chuck is now being challenged by pro-life candidate Danielle Bethell.
3. At the beginning of the year, pro-abortion interest group NARAL Pro-Choice Oregon outlined their plan to grow "the state's first Pro-Choice School Board Caucus" in an email.  They also targeted the Woodburn and Salem areas in particular.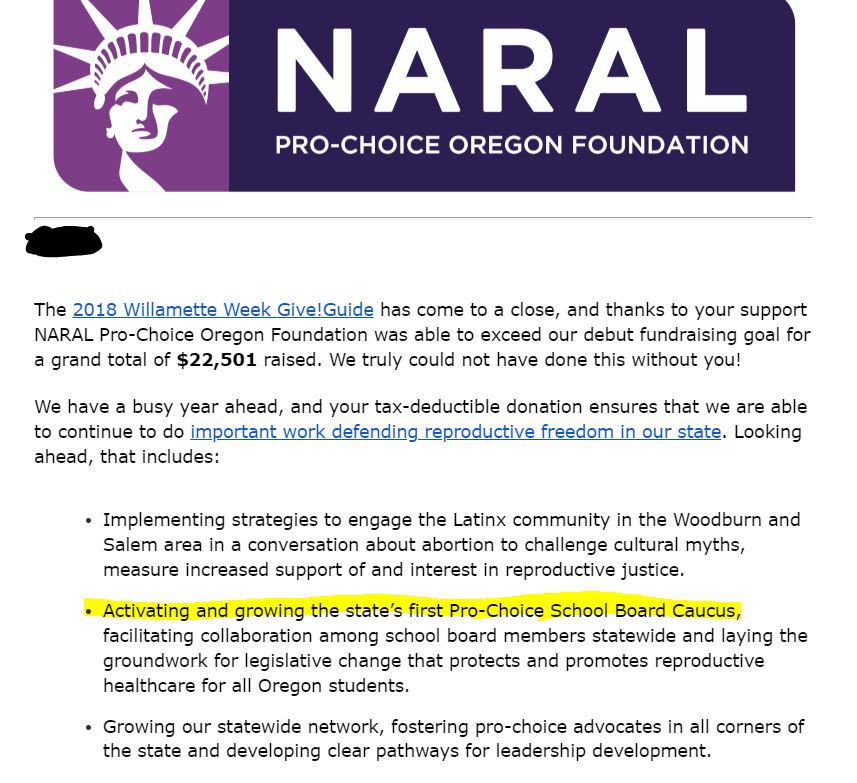 4. Planned Parenthood ran a board member–Kathleen Harder–for the school board two years ago. She was defeated by pro-life candidate—and now school board member—Kathy Goss.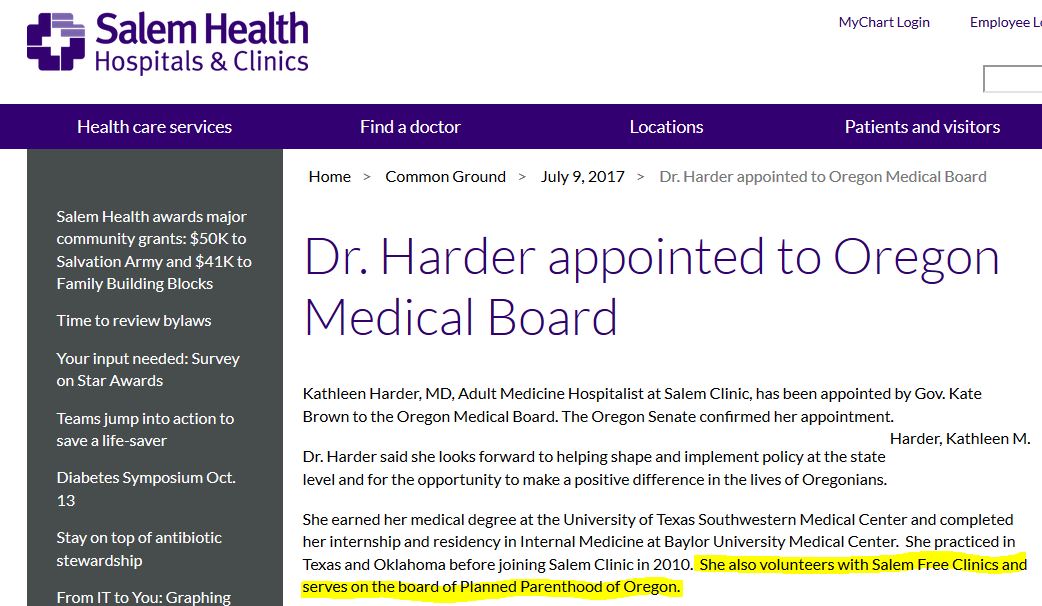 5. NARAL and Planned Parenthood have endorsed two candidates for the school board, Raul Marquez and David Salinas.  Endorsements from these groups are only for candidates who believe the right to life begins after birth. They are running against pro-life candidates Marty Heyen and Satya Chandragiri, respectively.
6. Planned Parenthood is paying people to canvass neighborhoods in the school district in support of their pro-abortion candidates. NARAL has also funneled $500 to support their Salem-Keizer candidates through another PAC.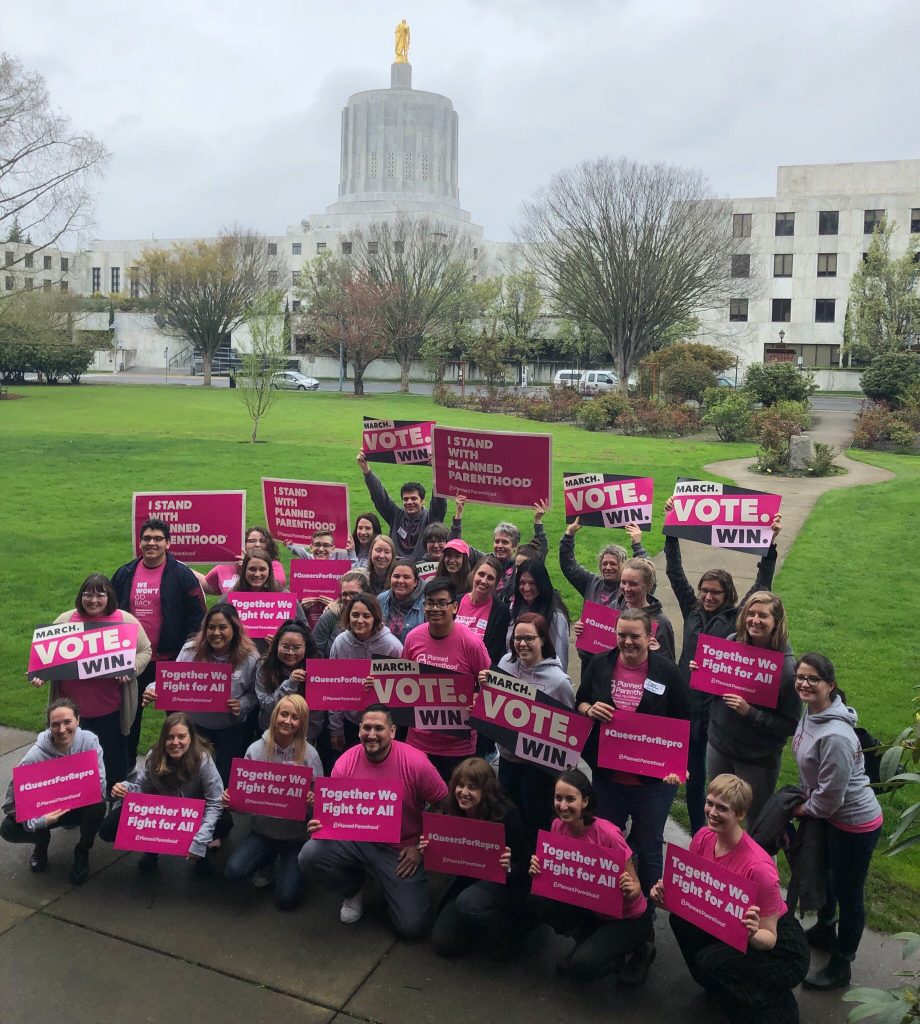 Clearly a lot is at stake in this election.  Unborn babies need champions on the school board who will fight for their rights. If you live in the Salem-Keizer School District, please vote pro-life.  Vote Marty Heyen, Satya Chandragiri and Danielle Bethell by May 21!
If you live elsewhere in the state check out our full list of endorsed candidates here.